GaBi life cycle inventory data version SP36 (2018) is now available for openLCA via nexus.openLCA.org. GaBi LCA databases include more than 12,000 Life Cycle Inventory data sets based on primary data collection including from agriculture, building and construction, chemicals & materials, consumer goods, education, electronics & ICT, energy & utilities, food & beverage, healthcare & life sciences, industrial products, metals & mining, plastics, retail, service sector and textiles.
nexus.openLCA.org now features the following GaBi life cycle inventory data in version SP36 (February 2018):
GaBi Professional database
GaBi Lean database
GaBi Indian
GaBi openLCA LCIA methods
Extension database Ia: Intermediates organic
Extension database Ib: Intermediates inorganic
Extension database II: Energy
Extension database III: Steel
Extension database IV: Aluminum
Extension database V: Non-ferrous metals
Extension database VI: Precious metals
Extension database VII: Plastics
Extension database VIII: Coatings
Extension database IX: End of life
Extension database X: Manufacturing processes
Extension database XI: Electronics
Extension database XII: Renewable raw materials
Extension database XIV: Construction materials
Extension database XV: Textile finishing
Extension database XVI: Seat covers
Extension database XVII: Full US
Extension database XVIII: NREL USLCI Integrated
Extension database XIX: Bioplastics
Extension database XX: Food & Feed
Extension database XXI: India
Get GaBi databases 2018 for openLCA
Download Gabi databases 2018 for openLCA via nexus.openLCA.org.
GaBi databases 2018 – Upgrades and improvements
Overall, more than 900 new processes
189 new processes in the GaBi professional database
413 new processes in the Extension database IX: End of life
156 new processes in the Extension database XVII: Full US
152 new processes in the Extension database II: Energy
Update of all data sets related to energy
Update of all data sets related to previous metals
… and much more
GaBi databases 2018 in openLCA
The ILCD package of GaBi databases 2018 provided by thinkstep to GreenDelta for implementation in openLCA, was subject to several modifications.
Flows were refactored to be mapped to their respective location and to avoid multiple entries of flows with the same reference ID but different locations.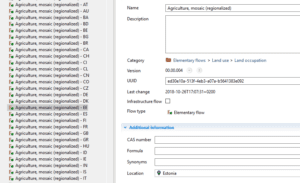 Categories were refactored. The structure in the original ILCD package was inconsistent and included duplicates of specific folders.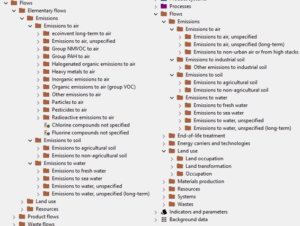 The GaBi data sets were adapted to the general modelling requirements of openLCA (e.g. mapping of flow properties and unit groups from openLCA to the respective GaBi flows, etc.). In addition, the GaBi data quality system was implemented.

Elementary flows were NOT mapped to openLCA's reference data to optimize reproducibility of results calculated in GaBi. However, in the long term it is planned to publish an additional version of the GaBi databases which allow to combine different databases from openLCA nexus.
Important modelling advice
Please read section 2.1 general modelling of the GaBi 2018 in openLCA documentation to prevent false results in the impact assessment.