We are proud to announce the release of openLCA 1.8 which features a whole list of very nice enhancements!
Life Cycle Impact Assessment (LCIA) checks
Some openLCA users already proposed this feature on our platform ask.openLCA.org and we are glad to have now implemented comprehensive LCIA checks in openLCA! Upon calculating the Analysis results of a product system (or Quick results if an LCIA method has been selected), the new tab LCIA Checks lists all flows of the Life Cycle Inventory (LCI) of the calculated product system that are not captured by the applied LCIA method. The flows can either be listed regardless of the LCIA category or grouped by LCIA category.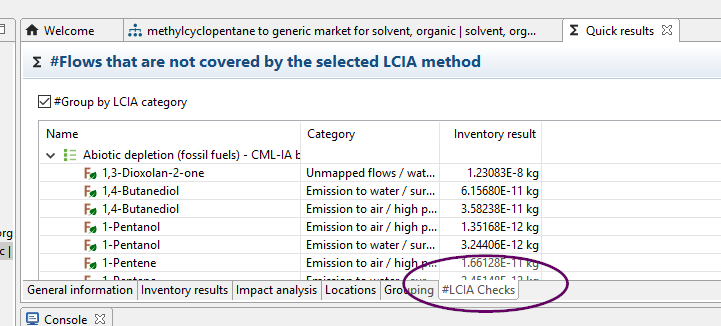 In addition, when opening a process, the new tab Impact analysis shows which LCIA categories of a selected LCIA method capture the flows of the inventory of the respective process. Optionally, zero values can be excluded.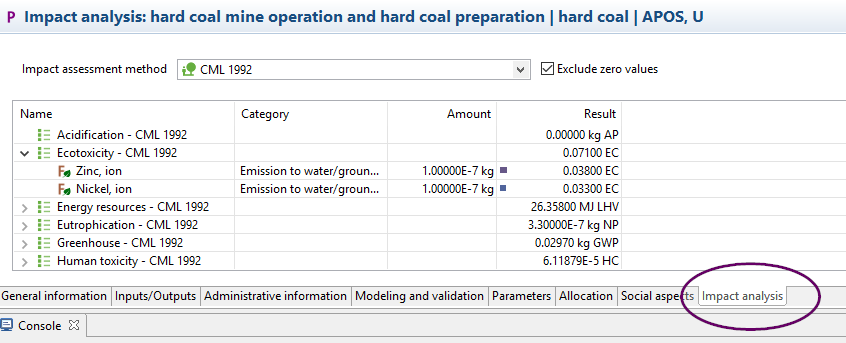 And last but not least, when opening a flow, the new tab Impact factors lists the LCIA category(ies) and respective LCIA methods which capture the flow as well as the corresponding impact/characterization factor.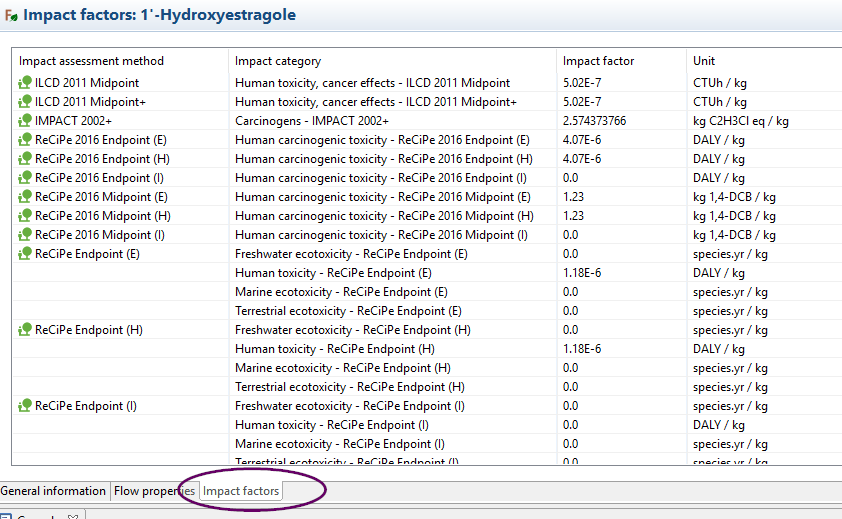 Location map
The change in an API of a popular web mapping service stopped previous versions of openLCA from displaying the map in the location tab when calculating results ("Map can not be displayed, do you have an internet connection?"). … fixed ✓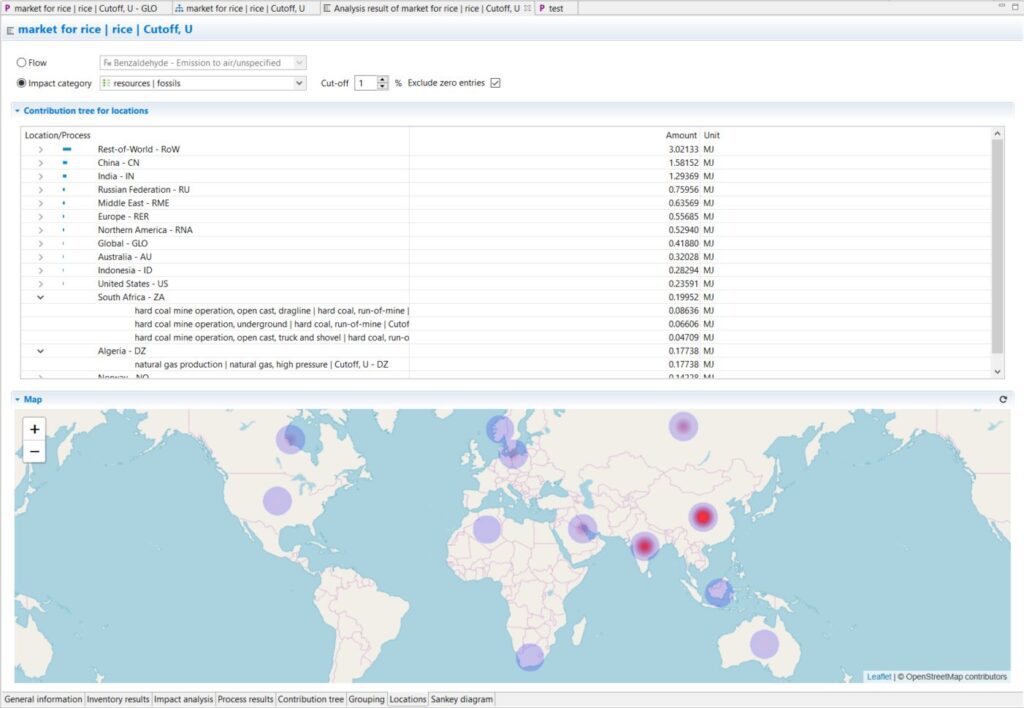 New parameter overview
A new powerful parameter overview lists all parameters in the active database regardless of whether they are local or global (Window -> Parameters). Upon opening the new parameter overview, right-click -> Evaluate formulas allows to evaluate the underlying formulas. The filter field allows to search for specific parameters or to filter for errors. Via right-click -> Edit, formulas can be changed directly from the parameter overview.
Display product systems in a project
In projects, product systems can now be displayed in the results selectively. Just check-mark the respective product systems in the Compared product systems overview.

Open provider
It is now much easier to navigate to the provider of a flow. Simply right-click on a flow and select Open provider.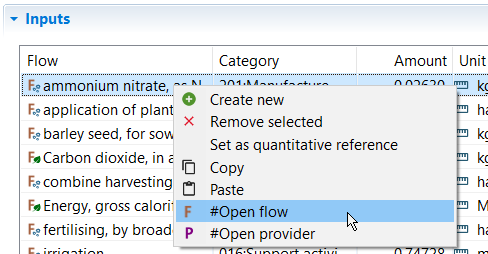 Open items from tables via right-click
Items in openLCA that can be opened in a table via a double-click now have a context menu entry (right-click). E.g. flows & providers in input-output tables, items in the navigation window, flows in the inventory results, processes in the total requirements list, flows in the LCIA results, flows and processes in the contribution tree, processes in the local contribution list, flows in the LCIA checks list and product systems in the compared product systems list.
Multi-selection for adding product systems to a project
Multiple product systems can now be added simultaneously to the Compared product systems overview/list of a project. In addition, drag and drop is now supported.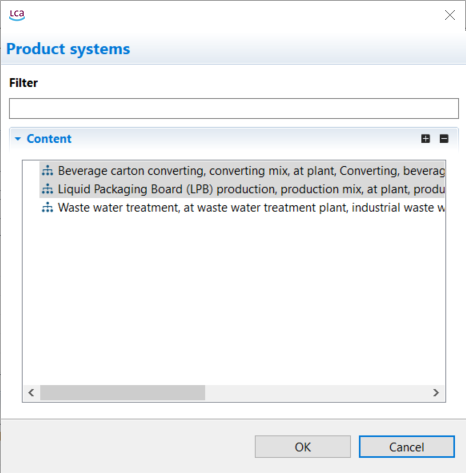 Database scheme update
openLCA 1.8 features an updated database scheme. Upon opening databases with an old database scheme, openLCA will automatically prompt for an update. Obviously, the new database scheme has thoroughly been tested. However, for very critical data we always recommend to create a backup before changing to a new database scheme.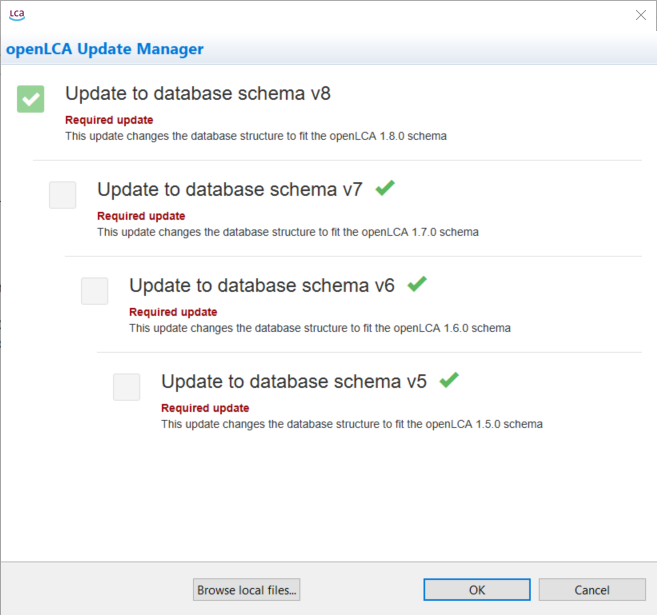 Miscellaneous
ILCD import now supports data quality information
Download and support
Download the most recent version of openLCA via https://openLCA.org/download. For community support visit https://ask.openLCA.org or get a support contract for professional support via the GreenDelta GmbH openLCA help desk.