The new release of openLCA includes major improvements e.g. better modelling of waste treatment and reuse as well as enhancements for the import and export of data. A comprehensive collaboration feature for simultaneous work on LCA studies is already integrated and will be available for free with the upcoming release of the LCA collaboration server. An early-access program for public testing of the LCA Collaboration Server is currently ongoing (see below).
With openLCA 1.7 we give a powerful boost to our mission of providing a full-featured, free and open source modelling suite for Life Cycle Assessments and other sustainability modelling approaches. We hope you enjoy using openLCA 1.7!
Continue reading to learn about the key improvements of openLCA 1.7
Fewer modelling restrictions and improved modelling of waste treatment and reuse

openLCA ≤ 1.7 – Required modelling according to the value flow direction: Previously, some cases of waste flow modelling in openLCA required a workaround. Usually, production processes are considered as of value for the receiving process. Therefore, wastes from disposal processes had to be considered as an output and returned to the production process as an input to counter the direction of material flow.
openLCA ≥ 1.7 – Allows modelling according to the actual flow direction: The introduction of a new flow type 'waste' allows to model waste flows directly as outputs of a production process which can be assigned as input to waste treatment processes.
Moreover, quantitative references in openLCA ≤ 1.7 had to be to the output side. This is no longer the case.
Upgraded Sankey Diagrams
The visualisation of a product system's impact per category in a Sankey Diagram has been revamped:
Upon right-click on a process, other connected processes are highlighted in colour to visualise connections between processes of a product system
Rerouting of Sankey Diagrams tidies things up. However, for large product systems routing sometimes disguises the connection between processes. Therefore, routing is now an optional feature that can be disabled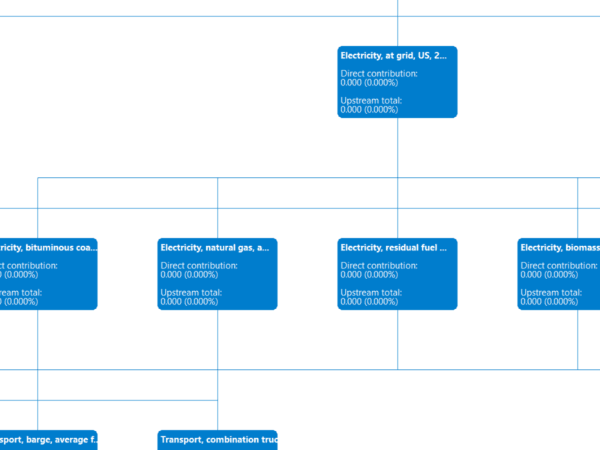 Enhanced import and export of data
To continue making openLCA the most compatible and flexible LCA software, we further enhanced openLCA's import and export capabilities for ILCD, SimaPro CSV and EcoSpold 1 data formats.
During import of e.g. JSON-LD data sets, openLCA now offers full control over how existing data sets are updated: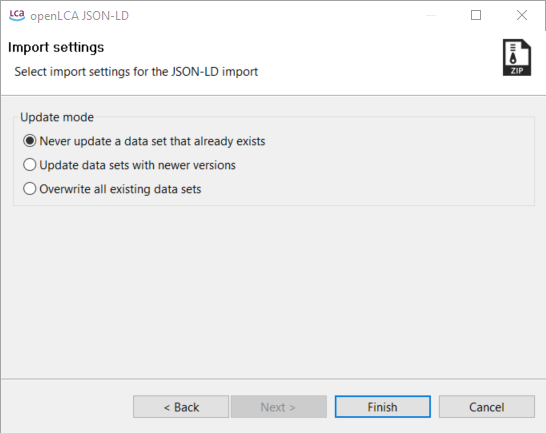 Improved user experience for Mac OS
Over time, we have received a lot of feedback from Mac users on how to improve the openLCA user experience. We have worked hard on openLCA 1.7, taking Mac users' feedback into account. This pertains for instance a simplified installation of openLCA on MacOS and other important improvements. openLCA now runs on MacOS with any version of Java, including the most recent version Java 9.
Full support for the openLCA collaboration server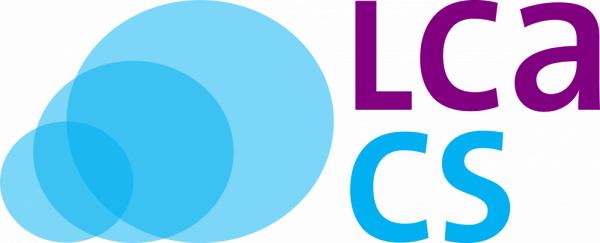 openLCA 1.7 accommodates full integration of the LCA collaboration server which facilitates developing Life Cycle Assessment (LCA) studies in distributed teams. The LCA collaboration server is not only a milestone for openLCA but offers innovative features and opportunities for LCA practitioners that are unparalleled by any other LCA software! openLCA users are now able to work simultaneously on an LCA study while tracking each other's changes. Moreover, the LCA collaboration server facilitates to synchronise databases and share changes.
Currently, the LCA Collaboration Server undergoes public testing with a limited number of users and will be released soon. We encourage active openLCA users to apply for this early adapters release!
Additional improvements
We've added numerous minor improvements which will smoothen your daily openLCA experience e.g.
Users can now directly navigate from an impact assessment method's impact factor overview to specific flows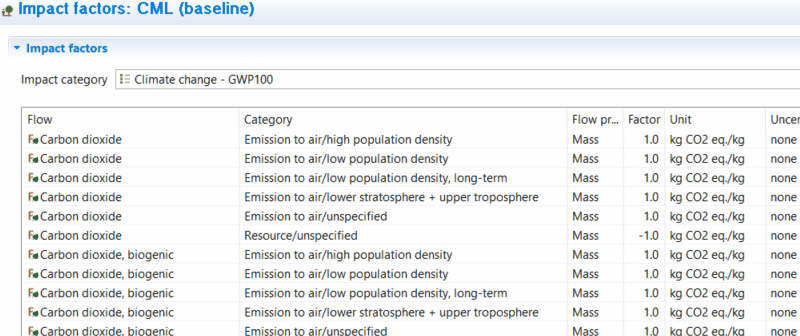 Entire child categories (sub groups) of projects, product systems, processes and flows can now be deleted with ease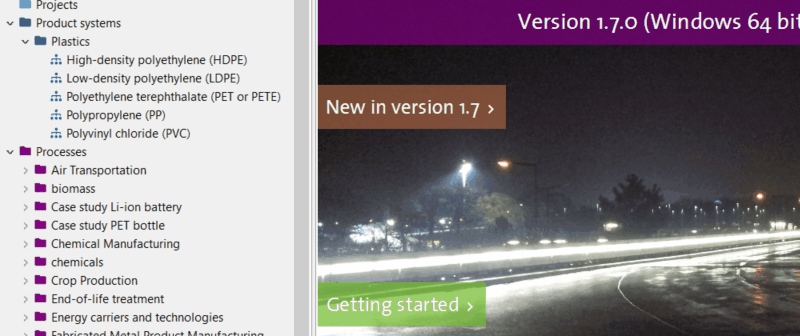 … and many more; check-out e.g. how quantitative references are set in a process in openLCA 1.7 compared to openLCA 1.6.3
Get openLCA 1.7
Download the most recent version of openLCA via http://www.openlca.org/
In case you have any questions or feedback, please feel free to contact us via gd@greendelta.com