We have released the ecoinvent 3.9.1 APOS database in openLCA Nexus and the latest ecoinvent method package in openLCA Nexus.
We also made some improvements for the other system models "Cutoff" and "Consequential" for ecoinvent 3.9.1 which you will find on openLCA Nexus, too. These improvements do not change the calculations, results or datasets. The updated databases are marked with Nexus version 2 or "n2" and compared to our initial release of 3.9.1, it will add some more details. These details are also integrated into the new "APOS" release.
All databases can be used with the integrated ecoinvent methods package. Our stand-alone openLCA methods package will follow later to be used for regionalization, for compatibility with ecoinvent 3.9.1 with other databases from Nexus or for impact methods not implemented by ecoinvent.
ecoinvent 3.9.1 Nexus version 2 (Cutoff, Consequential, APOS) additions (details):
All CAS numbers from ecoinvent for elementary flows are available
All chemical formulas from ecoinvent for elementary flows are available
All synonyms from ecoinvent for elementary flows are available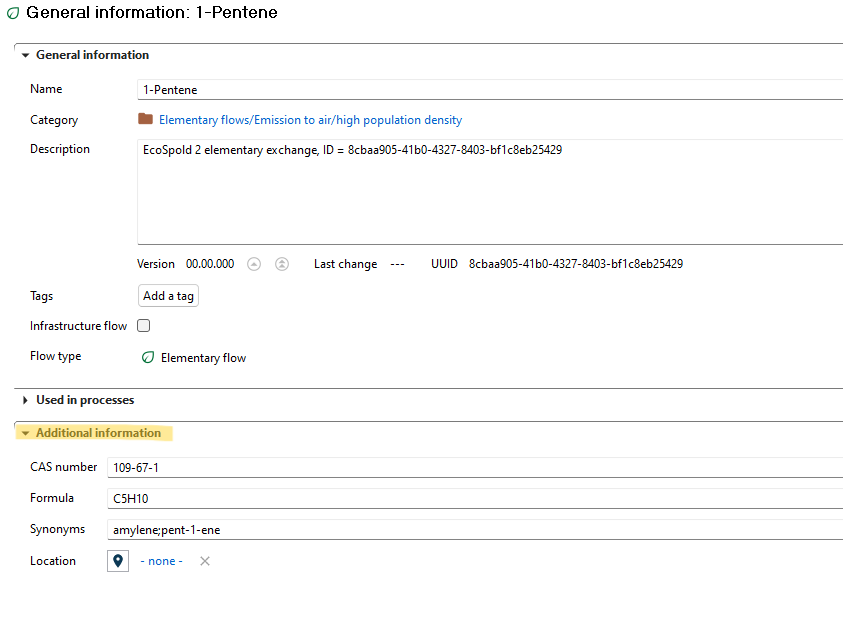 ecoinvent 3.9.1 Nexus version 2 (Cutoff, Consequential, APOS) technical changes:
5. Every process in the ecoinvent LCI databases (databases with system processes) receives a new UUID and will not have the same UUID as its corresponding (equal) process in the UPR database (databases with unit processes). This way it is more practical for users who want to merge the UPR and LCI databases into one single database. Please be aware to not merge different system models (Cutoff, Consequential, APOS) with each other.
6. In version 3.9.1, ecoinvent had changed the unit for the elementary flows "Gas, natural" and "Gas, mine, off-gas, process, coal mining" to the standard volume "Sm3", since the gas volumes in the database are given in standard cubic meter (volume at 15°C temperature and 1.013 bar pressure). To keep compatibility to other databases, we decided to change the unit for these two elementary flows to the volume "m3" and put the temperature and pressure conditions to the description of the exchanges by adding "(amount of the volume m3 corresponds to standard volume at 15°C and 1.013 bar atmospheric pressure)". The former standard volume "Sm3" remains in the flow properties and the unit groups of openLCA, but is not used anymore in processes, flows or impact factors.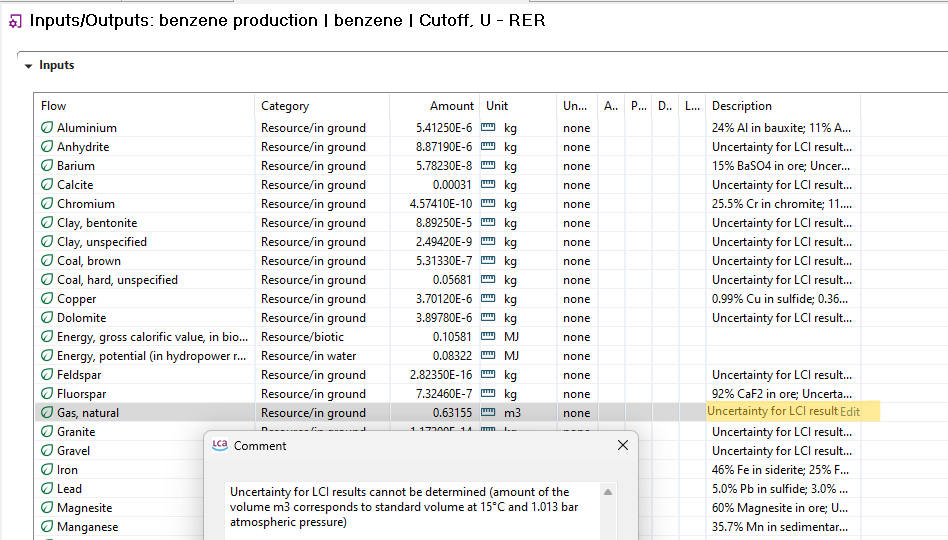 7. We changed the UUID (unique identifier) of some elementary flows, to make the databases compatible to our reference flow system. Interested users can find the list of UUID changes in Nexus.
Get ecoinvent 3.9.1 for openLCA
 ecoinvent 3.9.1 is available for download for openLCA exclusively on https://nexus.openlca.org. Please note that versions of ecoinvent 3.9.1 obtained elsewhere will not be compatible with openLCA. The ecoinvent licence purchased via nexus.openLCA.org is downward compatible.
In addition, users with an ecoinvent 3.9.1 license will also receive access to older versions of ecoinvent. All the different data packs can be used as independent databases in openLCA or combined together, if necessary. However, special attention should be paid to integrating older versions of ecoinvent databases with ecoinvent version 3.9.1 database due to the modification of the UUID of some processes and flows.