The LC-Inventories database is now available to download for openLCA versions 1.11 onwards. It was found that this database could not be opened with openLCA v.1.11 but this is now fixed. The contents of the database have not changed.
You can get this database via openLCA Nexus: https://nexus.openlca.org/database/LC-Inventories.ch 
If you already have the database and want to upgrade it, go to openLCA Nexus > downloads. There you will see that you can download version 2 of the database.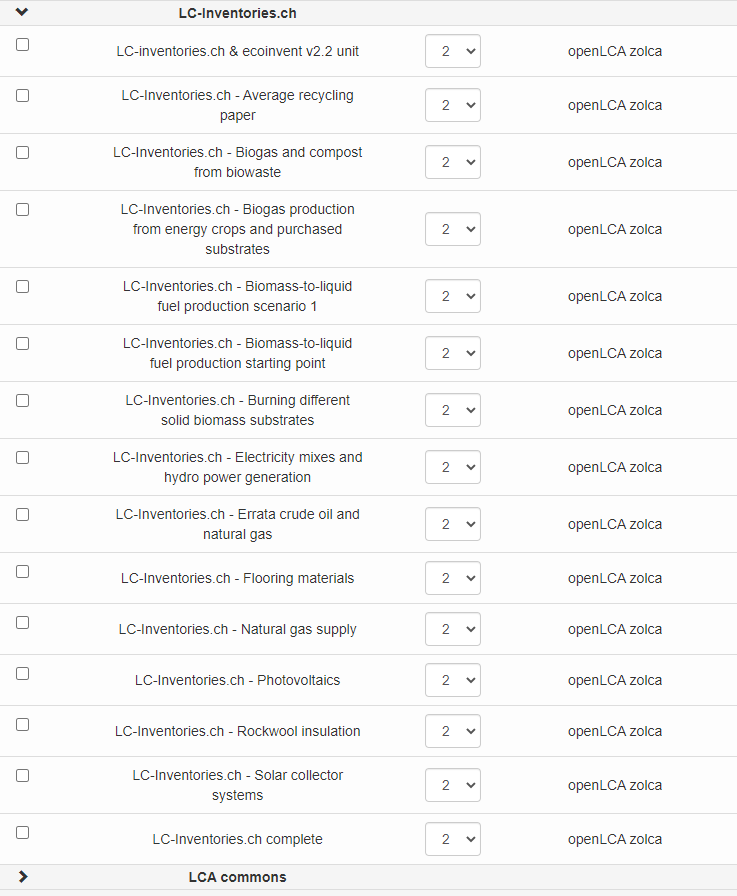 These packages contain corrections, updates and extensions of ecoinvent data v2.2 created by ESU-services and others authors. All life cycle inventory (LCI) data are elaborated according to the ecoinvent v2.2 guidelines. The data sets have been developed in different publicly or privately funded projects. With these data sets the present v2.2 ecoinvent data sets can be updated and extended.
The packs included are:
• Flooring materials (2012)
• Natural gas supply (2012)
• Flexcell amorphous silicon modules (2012)
• Photovoltaics (2012)
• Rockwool insulation (2012)
• Electricity and hydro power (2012)
• Biogas production from energy crops and purchased substrates (2011)
• Biogas and compost from biowaste (2011)
• Average recycling paper (2011)
• Burning Different Solid Biomass Substrates (2011)
• Solar collector systems (2010)
• Errata crude oil and natural gas (2010)
• Reports ecoinvent data v2.2 (2010)
• Biomass-to-liquid fuel production (2007)